"Sometimes it just feels so good to just sit by yourself, relax and not talk to anyone"
Did you too feel the same, yes, I agree with you, sometimes life becomes so hectic that it made our lives as of slaves. People roam every day either it's for finding a job or for doing a job, life becomes so hectic. So, to take a break from that life needs peace, positive energy, and some immunity to tackle negative energy. We need a thing and i.e. YOGA. All of these points are covered by yoga. Yoga is the main ingredient that can take us away from that hectic life schedule. Here, you will get to know about the relaxing yoga poses which can turn your life to 'HEAVEN'
So, let's see all the relaxing yoga poses step by step.
SAVASANA
Firstly, place the mat on the floor and lie down on it, then relax your whole body by loosening your body like a corpse. Keep your palm facing upward and a shoulder-width distance between legs. After that take a deep breath and sense the flow of oxygen in your body. Focus on your breathe and do long deep breathing. Always keep your whole body on the mat if you let your body outside it will cause loss of energy that is going to arise in your body. In this posture, the earth absorbs our energy if we let in direct contact with it, so keep your body on the mat and relax your body fully.
VAJRASANA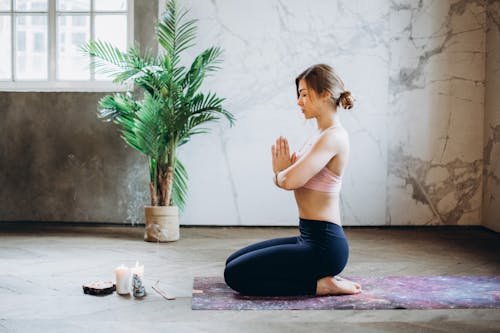 This is one of the best relaxing asanas, it calms our leg muscles and let our body heal.
Place the mat on the floor and sit on your legs keeping knees joined. Put your hands on the knees and take deep breaths. Keep your eyes close and feel the essence of oxygen in your body. If your mind gets diverted to other things while performing this asana then try to take a deep breath and sense the flow of oxygen it will help you to increase your concentration power.
GOMUKHASANA
Firstly, sit on the mat with a comfortable posture keeping your legs straight. Then fold your right leg and over it put another leg such that both of the knees come parallel to each other. Now take your right hand behind your neck from upwards and your left hand from downwards and try to make a grip by joining hands. Take a deep breath, exhale, inhale, and let your body relax.
PADMASANA
Firstly, sit on a mat with a comfortable posture keeping your legs straight. Now put your right leg on the left thigh and left leg on your right thigh such that it seems to be across. So, touch your thumb with your index finger with both hands and put them on both knees.
SHASHANKASANA
Sit down in a comfortable posture and fold your legs beneath your butts same as in vajrasana posture. Now open your knees with a comfortable distance and then lay down your body forward. Touch your chin, chest to the floor, and stretch your full body. Due to stretching your full body gets to relax and calm.
TADASANA
Stand straight on the mat keeping your toes apart and making v- shape. Now raise both hands above your head and make a criss-cross grip. After that stretch your full body by standing on your toes and stretching fingers outward. Take a deep breath, exhale, inhale, and let the oxygen flow in your veins.
MAKARASANA
This is the most relaxing asana of all of the above, this asana helps you to calm your soul and purify it. Also, it is the most simple asana.
Just lie down on the mat keeping your both legs shoulder-width apart and placing both hands on top of each other. Now, calmly place your forehead over your hand and relax. Take slow breaths and continuously focus on your breath. After you will forget your all worries, stress, depression, and then you will feel eternal peace.
BENEFITS
Enhances the glow on your skin and makes it more bright.
Improves the digestive system of a person due to which intestine get clean and the body becomes more strong.
Reduces anxiety, stress, depression, and makes a person more calm and agile.
Regulates blood flow in the body perfectly.
Psychologically, it regulates the interconnectedness of body, breath, and mind, thus making you calmer and boosting the energy levels with sharpened awareness.
Battles insomnia and detoxifies your body.
So, these were all relaxing yoga poses you have seen and I would like it if you all follow these instructions and make your life free from all troubles
SOME GENERAL INFORMATION
Yoga is the essence of life that can change the life of every person only if it is done with your full mind and soul. In various regions, yoga is considered a boring thing but if you step inside the reality it becomes the most powerful thing you have ever seen. Here, on FITNESSTEPZ you will get all of the information about yoga, meditation, gym, diet, supplements, fashion, and grooming. If you have any doubt regarding any difficulty you get in your way towards fitness just text it in our comment section we will try to solve your problem within 24 hours.
Related Posts:
October 2021
M
T
W
T
F
S
S
1
2
3
4
5
6
7
8
9
10
11
12
13
14
15
16
17
18
19
20
21
22
23
24
25
26
27
28
29
30
31